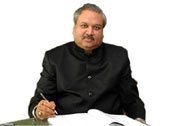 Dr. Subirkumar Banerjee,
Founder,  NHITM
"Education is not preparation for life; education is life itself."

-John Dewey
India is recognized as one of the major global resource hubs for providing the intellectual capital to the world. It is also emerging as one of the economic super powers of the global village. India's cherished vision to become the superpower can only be attained by training the young, dynamic and quality human resource.
The technical institutions have to take the responsibility of developing and nurturing the world class Engineers, Technocrats, and Managers. Our legacy is to contribute to the development by creating competent and eco-friendly Engineers for the globalized ethos of technology.
The global economic order, the rapid rate of technological advancement, the information revolution has opened up the flood gates of new succession of challenges and prospects. The ability to innovate, and capacity to develop are going to be the forte in the coming century.
We are committed to the cause of imparting global standard education through resourceful faculty, innovative teaching-learning process, industry-institute nexus, and sound infrastructure. Our dream is to set NEW HORIZON INSTITUTE OF TECHNOLOGY AND MANAGEMENT a landmark on the world map of technical institutions."