From the Desk of President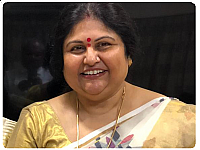 Mrs. Suvra S. Banerjee,
President, NHES
"We cannot always build the future for our youth, but we can build our youth for the future."

-Franklin D. Roosevelt
Our Institution, a temple of learning and a hallmark of discipline, treads towards the zenith of glory by providing quality education with global standards in the best quality and diversity.
Our aim is to teach students to LEARN, not just STUDY. Hence, we strive to travel beyond the boundaries of mere books. We have realized that the future is abstract and unknown but the youth in our hands are real and can be molded.
At NHITM, we are in the pursuit of excellence in all our endeavors and we strive at creating all round personality in our students professionally and socially. By maintaining a team of core faculty members, who are constantly pushing the frontiers of knowledge, we ensure a futuristic approach that keeps pace with the changing trends in the professional world through our global perspective.
The holistic approach of the institute stimulates innovation among students by inculcating fresh ideas with different insightfulness and firm conviction to achieve new heights.
I extend my best wishes to all students in their chosen career path. I am extremely confident that NHITM will continue to serve the society by nurturing budding engineers.
"You don't have to be great to start, but you have to start to be great."